Here follows a little gallery with the characters in the comic. Not so much to see here yet, but there will be. When the stars are right.



Me
This is me. I like to wear capes, write imaginary letters to my imaginary friend, orch-hunting and Cthulhu. I do not like reality that much.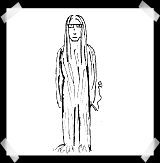 The Yeti
This is my soon-to-be-husband. He is a yeti. That's cool.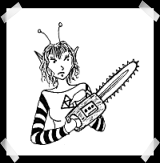 Elf
This is my bestest friend Elf. She is a gold smith. Why does she has antennas on her head? I dunno, why shouldn't she?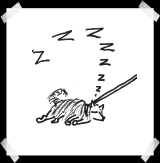 Ancient dog
This is my ancient dog. He is 14 years old, deaf and incredible cute. He is still very happy and I hope he stays that way for at least a few more years.